MORE THAN JUST FILLING THE GAP
Aerzen Rental Blowers at Rio Tinto
Rental equipment doesn't just fill the gap when unexpected failures occur, it can also play an integral part in planning – for example, serving as a replacement during maintenance and repairs, facility construction and renovation, in research and development projects or during process optimisation. There is a wide range of applications: suction and pressurised air systems for pneumatic transport, industrial and municipal wastewater treatment, filter rinsing, fermentation and many more.
Transparent costs
AIR, a wholly-owned subsidiary of Aerzener Maschinenfabrik, specialises in these solutions. The company offers a comprehensive range of frequency-controlled, oil-free compressor rental equipment with a pressure range from -700 mbar to 10,000 mbar, specially developed for rental applications: robust, easy to transport, user-friendly units that can be installed outdoors. Complete turn-key systems can be supplied upon request. On-site installation, commissioning and personnel orientation are included in delivery.
The customer benefits are obvious: clear costs, quick delivery times and flexibility as well as around the clock support from a professional service provider.
Rental service and more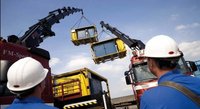 Kronos Titan, a manufacturer of titanium dioxide, took advantage of these benefits at its Nordenham plant. Quick action was called for after a screw compressor failure in the vacuum station because, with the remaining three compressors, a backup was no longer available. AIR delivered a type CVI 4400 rental unit at short notice. The installed Aerzener single-stage VML 60 screw compressor achieves a maximum flow rate of 73 m³/min in a vacuum environment of -700 mbar during vacuum operation. With this performance data, the unit offered enough capacity to replace two of the existing screw compressors. This simultaneously presented the possibility of inspecting the old compressors one by one. During the first inspection, however, the operator decided not to invest any more in the old compressors. AIR quickly supplied a second rental compressor so that the entire vacuum station was operated with both CVI-4400 rental compressors.
Both compressors were fitted with a process-controlled suction-pressure regulator, which made it possible for the system to deliver high load capacity results and a new vacuum station for the Nordenham plant could be planned.
Horst Tietjen, Assistant to the Works Manager, Production Department III, Kronos Titan GmbH
"The hired compressors maintain our production and help us to establish high load capacity values for that station. In addition, AIR is very flexible and, if we need it, we have their immediate support."